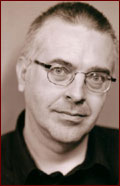 born 1960, has studied directing at the Department of Film and Television at the University of Art and Design in 1984-1991. His dissertation was on directing and screenwriting. On top of these two professions, Hannu became interested in producing and did post-graduate studies at Media program's EAVE training workshop for international producers in 1994. Hannu has produced all 16 of Cinemaker's films.
ONE-WAY TICKET TO MOMBASA (2002), which received considerable acclaim at international film festival circuit,
was Hannu's first feature film as a director. He also co-wrote the screenplay together with Atro Lahtela. Hannu Tuomainen has also directed eight short films and for most of them he has been the screenwriter too.
The international producers' training bore fruit soon: Hannu produced his first feature film TOMMY & THE WAILDCAT, which had the premiere in 1998. Wildcat Production Oy, which was founded to manage the project, acted as the production company. An English-speaking version of the film was also made, and at the time it was the most expensive feature film shot in Finland, resulting to be one of the most successful Finnish movies too.
Hannu´s biggest achievement has been producing the internationally acclaimed feature CGI animation NIKO & THE WAY TO THE STARS (2008), which he also wrote together with Marteinn Thorisson. NIKO has been distributed world wide and it has sold over 3 million tickets in cinemas.
Besides the many international awards, the Finnish Film Distributors' Association chose Hannu as Producer of the Year in 1999, and that same year he received a State Award for Children's Culture. For NIKO Hannu was awarded in 2009 with two Jussi-statues (national Oscar) for Best Picture and Best Screenplay and Producers Association awarded him as Producer of the Year together with Petteri Pasanen.
Along the film making activities Hannu has also been a regular lecturer and trainer at schools for film studies; among others he was at the University of Art and Design in 2002-2003 the head of studies on production at the School of Motion Picture, Television and Production Design.